1989-2000
1989
February
Indian author Salman Rushdie's book The Satanic Verses causes uproar among fundamentalist Muslims, and Ayatollah Khomeini places a fatwa (religious edict) on the writer, saying his book is "blasphemous against Islam." The ayatollah calls on all "zealous Muslims" to kill Rushdie, placing a $3 million bounty on his head.
June
Khomeini dies. An elected body of senior clerics -- the Assembly of Experts -- chooses the outgoing president of the Islamic Republic, Ali Khamenei, to succeed Khomeini as the national religious leader.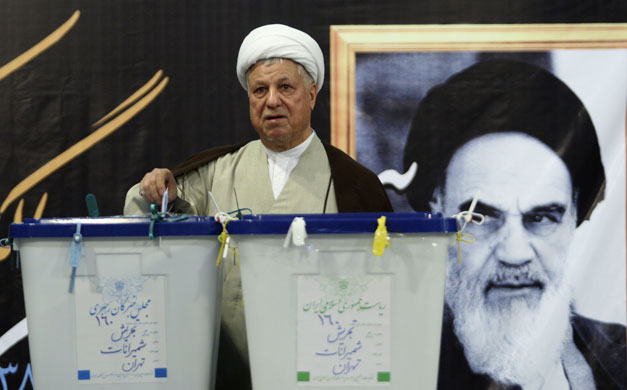 August
Ali Akbar Hashemi-Rafsanjani, the speaker of the National Assembly, becomes president. Rafsanjani was an influential member of the Council of Revolution of Iran in the Islamic Republic's early days.
1993
Rafsanjani wins reelection.
1995
The United States places oil and trade sanctions on Iran, accusing the country of sponsoring terrorism, committing human rights abuses and seeking to sabotage the Arab-Israeli peace process.
1997
(Ali) Mohammad Khatami-Ardakani is elected to the presidency in a landslide victory amidst his pledges of political and social reforms as well as economic revitalization.
2000
Pro-reform candidates and allies of President Khatami win 189 of the 290 seats in parliament, setting the stage for reformers to control the legislature for the first time since the 1979 Islamic revolution. Conservatives win 54 seats, independents 42 and another five seats are reserved for religious minorities.
2001
President Khatami wins reelection.