Iranian (Persian) Themes Written by Western Writers
Buchan, James. The Persian Bride (Mariner Books, 2002).
At once a great love story, a riveting political thriller, and a profound analysis of modern Iran, The Persian Bride is unflinching in its vision of twentieth-century chaos. In 1974, the young Englishman John Pitt follows the hippie trail to Isfahan, where he encounters the enchanting Shirin Farameh. These two young people fall desperately in love and marry, despite their cultural differences and the political upheaval surrounding them. When they are tragically separated, John sets off in search of his wife on a nightmare journey that takes him from the corrupt court of the shah to the battlefields of Iraq and Afghanistan.
Clavell, James. Whirlwind: A Novel of the iranian Revolution (Hodder Publications, 1999).
"Whirlwind" is the story of three weeks in Tehran in February 1979: three weeks of fanaticism, passion, self-sacrifice and heartbreak. Caught between the revolutionaries and the forces of international intrigue is a team of professional pilots. They are ordered to flee to safety with their helicopters. Two of them, both Europeans, have Iranian wives whom they love beyond safety and politics.
Cook, Jennifer. An Iranian Mosaic (Trafford Publishing, 2006).
An Iranian Mosaic follows the lives and the friendship of three different families. The book is divided into three parts: the nineteen fifties, sixties and seventies. The story begins in May 1955, in Tehran, when the Jarari family is attacked because they are Baha'i's, a religious minority group in Iran. It is decided that Husayn, 12, and Elahe, 11, will go to Manchester, England to stay with the Townsend family, and attend school with Elizabeth, 14 and Thomas, 12. It is very exciting and very scary for them to be so far from home. The story follows the lives of the four children in England, and back to a summer adventure in Iran. It then follows them to university in Geneva, Switzerland, where they become involved in communist intrigue. In the third part, they are adults back in Tehran and the story follows their children, Rory, Sarah and Caspian. Tehran is in turmoil. The Shah and Shahbanu leave the country to go into exile, and the Ayatollah Khomeini returns to lead the revolution.
Crane, A.J. Roxana Romance (Pavasta, 2008).
In this big, magnificent novel, Cave tells the story of Roxana, the Sogdian princess Alexander the Great married during the last stage of his conquest of the Persian satrapy of Bactria. In history, she was a 16-year-old pawn of her warlord father, a living chess piece in the game being played between the local Bactrian potentates (who were eager to curry favor with their new overlord) and Alexander (who sought to stabilize things in Persia preparatory to his march on India).
Cave's stroke of genius is to take this bare outline--scarcely a mention in the scanty ancient sources on Alexander--and weave it not only into a first-rate historical novel but, more daringly, into a modern version of such epic Persian works as the Shahnameh of Firdowsi. The seasons, the local religious rituals, the whole cultural heritage of a nation that was old when Greece was still a village--these things are seamlessly woven by Cave into her story about a smart, headstrong girl (called Rosanak in the novel) who knows the love of her life for a heartbreakingly short amount of time and then must spend the rest of her brief days (she was murdered shortly after Alexander's death by one of his innumerable would-be successors) fighting to preserve her rights and the rights of the son she gave Alexander.
It's a tribute to Cave's storytelling ability that her book is every bit as exciting and engrossing with or without Alexander on stage. This is Roxana's story from start to finish, and Cave enlists everything--from a large cast of characters, to very lively dialog, and even to a creative use of typeface and font--to underscore that point. There's a vast amount of ancient Persian culture and lore packed into this book, but it's firmly in the service of fleshing out the tale of the young woman who ancient sources say captured Alexander's heart. No reader of historical fiction should miss this lavish, wonderful book. (Steve Donoghue, Historical Novels Review)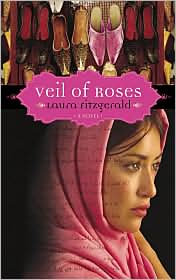 Fitzgerald, Laura. Veil of Roses (Bantam, 2006).
This compelling debut follows one spirited young woman from the confines of Iran to the intoxicating freedom of America—where she discovers not only an enticing new country but the roots of her own independence. . . .

Tamila Soroush wanted it all. But in the Islamic Republic of Iran, dreams are a dangerous thing for a girl. Knowing they can never come true, Tami abandons them. . . . Until her twenty-fifth birthday, when her parents give her a one-way ticket to America, hoping she will "go and wake up her luck." If they have their way, Tami will never return to Iran . . . which means she has three months to find a husband in America. Three months before she's sent back for good.

From her first Victoria's Secret bra to her first ride on a motor scooter to her first country line-dance, Tami drinks in the freedom of an American girl. Inspired to pursue her passion for photography, she even captures her adventures on film. But looming over her is the fact that she must find an Iranian-born husband before her visa expires. To complicate matters, her friendship with Ike, a young American man, has grown stronger. And it is becoming harder for Tami to ignore the forbidden feelings she has for him.

It's in her English as a second language classes that Tami finds a support system. With the encouragement of headstrong Eva, loyal Nadia, and Agata and Josef, who are carving out a love story of their own, perhaps Tami can keep dreaming—and find a way to stay in America.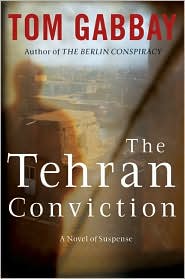 Gabby, Tom. The Tehran Conviction (William Morrow, 2009).
Tehran 1953. Jack Teller, a new recruit to the recently established Central Intelligence Agency, finds himself in Iran posing as a high-level American oil executive as part of Operation Ajax, the agency's first attempt to overthrow the government of a sovereign nation. Torn between loyalty to his country's policies and sympathy for the hopes of a fledgling democracy, Jack must ultimately pick which side he will betray. It is a decision that will affect the future of the Middle East and, eventually, the world.
Twenty-six years later, in 1979, Jack returns to a very different Iran. The country is in the grip of a religious revolution, and the streets of the capital city are filled with daily rantings against The Great Satan. Jack's attempt to save one man from Islamic justice—a man whom he had, at one time, called a friend—leads him into the heart of an emerging struggle between the West and a new and dangerous ideology.
Divided by conflicting loyalties, a young Jack Teller made a fateful choice that would reverberate for decades. In The Tehran Conviction, Tom Gabbay masterfully interweaves politics and suspense in a searing tale of espionage and betrayal that reveals the unexpected costs our decisions hold for us—and for history.
Renault, Mary. The Persian Boy (Pantheon Books, 1972).
"The Persian Boy" tells the story of the climactic last seven years of Alexander the Great's life through the eyes of his lover, Bagoas. Abducted and gelded as a boy, Bagoas was sold as a courtesan to King Darius of Persia, but found freedom with Alexander after the Macedon army conquered his homeland. Taken as an attendant into Alexander's household, the beautiful young eunuch becomes the great general's lover and their relationship sustains Alexander as he survives assassination plots, the demands of two foreign wives, a mutinous army, and his own ferocious temper.
Tyler, Anne. Digging to America (Ballantine Books, 2007).
Anne Tyler's richest, most deeply searching novel–a story about what it is to be an American, and about Iranian-born Maryam Yazdan, who, after 35 years in this country, must finally come to terms with her "outsiderness."

Two families, who would otherwise never have come together, meet by chance at the Baltimore airport – the Donaldsons, a very American couple, and the Yazdans, Maryam's fully assimilated son and his attractive Iranian wife. Each couple is awaiting the arrival of an adopted infant daughter from Korea. After the instant babies from distant Asia are delivered, Bitsy Donaldson impulsively invites the Yazdans to celebrate: an "arrival party" that from then on is repeated every year as the two families become more and more deeply intertwined. Even Maryam is drawn in – up to a point. When she finds herself being courted by Bitsy Donaldson's recently widowed father, all the values she cherishes – her traditions, her privacy, her otherness–are suddenly threatened.
Vidal, Gore. Creation (Vintage, 2002).
A sweeping novel of politics, war, philosophy, and adventure–in a restored edition, featuring never-before-published material from Gore Vidal's original manuscript–Creation offers a captivating grand tour of the ancient world. Cyrus Spitama, grandson of the prophet Zoroaster and lifelong friend of Xerxes, spent most of his life as Persian ambassador for the great king Darius. He traveled to India, where he discussed nirvana with Buddha, and to the warring states of Cathay, where he learned of Tao from Master Li and fished on the riverbank with Confucius. Now blind and aged in Athens–the Athens of Pericles, Sophocles, Thucydides, Herodotus, and Socrates–Cyrus recounts his days as he strives to resolve the fundamental questions that have guided his life's journeys: how the universe was created, and why evil was created with good. In revisiting the fifth century b.c.–one of the most spectacular periods in history–Gore Vidal illuminates the ideas that have shaped civilizations for millennia.