Graphic Novel
Mechner, Jordan, A.B. Sina (writers) and LeUyen Pham and Alex Puviland (illustrators). Prince of Persia (First Second, 2008).
Long ago in Persia, there lived a Prince -- a man of honor, of valor, and full of strength -- a man for his people, who lived with them and took on their trials and hardships. And he was loved. His name is no longer remembered. When people speak of him, they call him merely, 'The Prince of Persia,' as if there have been no others, and his descendants are enjoined to live like him, to be like him, to the ends of their days.
Long ago in Persia, there were many princes, one following another, sometimes quick, sometimes slow, sometimes fat, clever, joyous, and all more or less honorable. And in some of those princes there shone the spirit of The Prince of Persia, for in Persia time spins like a wheel, and what is to come has already happened, and then happens again, year in and year out. This is the story of two of those princes, and of the destiny that threads their lives together.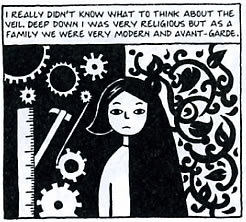 Satrapi, Marjane. Persepolis: The Story of a Childhood (Pantheon, 2004).
Wise, funny, and heartbreaking, Persepolis is Marjane Satrapi's memoir of growing up in Iran during the Islamic Revolution. In powerful black-and-white comic strip images, Satrapi tells the story of her life in Tehran from ages six to fourteen, years that saw the overthrow of the Shah's regime, the triumph of the Islamic Revolution, and the devastating effects of war with Iraq. The intelligent and outspoken only child of committed Marxists and the great-granddaughter of one of Iran's last emperors, Marjane bears witness to a childhood uniquely entwined with the history of her country.

Persepolis paints an unforgettable portrait of daily life in Iran and of the bewildering contradictions between home life and public life. Marjane's child's-eye view of dethroned emperors, state-sanctioned whippings, and heroes of the revolution allows us to learn as she does the history of this fascinating country and of her own extraordinary family. Intensely personal, profoundly political, and wholly original, Persepolis is at once a story of growing up and a reminder of the human cost of war and political repression. It shows how we carry on, with laughter and tears, in the face of absurdity. And, finally, it introduces us to an irresistible little girl with whom we cannot help but fall in love.
Satrapi, Marjane. Embroideries (Pantheon, 2005).
From the best-selling author of Persepolis comes this gloriously entertaining and enlightening look into the sex lives of Iranian women. Embroideries gathers together Marjane's tough-talking grandmother, stoic mother, glamorous and eccentric aunt and their friends and neighbors for an afternoon of tea drinking and talking. Naturally, the subject turns to love, sex and the vagaries of men.

As the afternoon progresses, these vibrant women share their secrets, their regrets and their often outrageous stories about, among other things, how to fake one's virginity, how to escape an arranged marriage, how to enjoy the miracles of plastic surgery and how to delight in being a mistress. By turns revealing and hilarious, these are stories about the lengths to which some women will go to find a man, keep a man or, most importantly, keep up appearances.

Full of surprises, this introduction to the private lives of some fascinating women, whose life stories and lovers and will strike us as at once deeply familiar and profoundly different from our own, is sure to bring smiles of recognition to the faces of women everywhere–and to teach us all a thing or two.
Satrapi, Marjane. Chicken with Plums (Pantheon, 2006).
In her acclaimed Persepolis books and in Embroideries, Marjane Satrapi rendered the events of her life and times in a uniquely captivating and powerful voice and vision. Now she turns that same keen eye and ear to the heartrending story of her great-uncle, a celebrated Iranian musician who gave up his life for music and love.

We are in Tehran in 1958, and Nasser Ali Khan, one of Iran's most revered tar players, discovers that his beloved instrument is irreparably damaged. Though he tries, he cannot find one to replace it, one whose sound speaks to him with the same power and passion with which his music speaks to others. In despair, he takes to his bed, renouncing the world and all its pleasures, closing the door on the demands and love of his wife and his four children. Over the course of the week that follows, his family and close friends attempt to change his mind, but Nasser Ali slips further and further into his own reveries: flashbacks and flash-forwards (with unexpected appearances by the likes of the Angel of Death and Sophia Loren) from his own childhood through his children's futures. And as the pieces of his story slowly fall into place, we begin to understand the profundity of his decision to give up life.

Marjane Satrapi brings what has become her signature humor, insight, and generosity to this emotional tale of life and death, and the courage and passion both require of us. The poignant story of one man, it is also a story of stunning universality–and an altogether luminous work.